A crotchless body stocking is a fabulous erotic style for curvy ladies. I love how this one piece fits our curves like a glove. See all 8 crotchless
Plus Size Jacquard Halter Bodystocking | See Yandy.com

What is a crotchless bodystocking?
A bodystocking will compliment a woman's curves like no other.
And! For a less body-confident woman, it can really boost her self-esteem and sexual power ☺

Why is a bodystocking so flattering?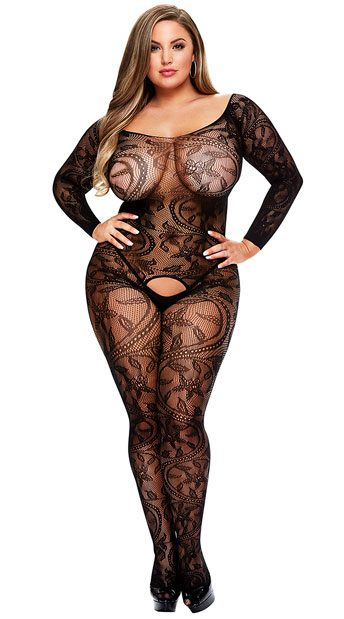 First, there's no other one-piece you'll feel that sexy in. See all 8 crotchless
Here's why.
the fabric is super elastic and fits your body like a glove
like to cover your arms? Go for a style with sleeves
it compliments your curves allover
combined with a pair of killer heels its success guaranteed
great going barefoot as well…
it hides a tummy, stretch marks, cellulite, and scars
it relaxes you, being less conscious of any insecurities you might have
insanely comfy to wear
the open crotch is made to fully explore all areas
no need to take the body off…
A crotchless bodystocking will spice up your sex life for sure see 8 plus size styles here

How to choose lingerie for your body shape
What sexy lingerie will flatter my body? How to buy the right lingerie.
If you're baffled by basques or confused by corsets, Lovehoney's easy lingerie guide will explain everything.

8 Crotchless bodystockings plus size

1. Lovehoney Plus Size fishnet crotchless bodystocking | Queen Size
Lovehoney Plus Size Treasure Chest Fishnet Crotchless Bodystocking | See Lovehoney.com
✔ model is a US size 14 and 5'4″ tall with a 36DD bust
✔ she is wearing One Size Queen | Dress Size 14-20
✔ crotchless bodystocking with fishnet covered legs
✔ floral lace body with open cups that reveal your breasts

2. Crotchless red floral lace open bust bodystocking | 4 – 12
Lovehoney Crotchless Red Floral Lace Open Bust Bodystocking | See Lovehoney.com
✔ model is a US size 8 with 32F bust
✔ she is wearing One Size | Dress Size 4-12
✔ crotchless bodystocking made in a floral pattern
✔ easy to step into, stretchy material

3. Plus size swirling floral lace bodystocking | Queen Size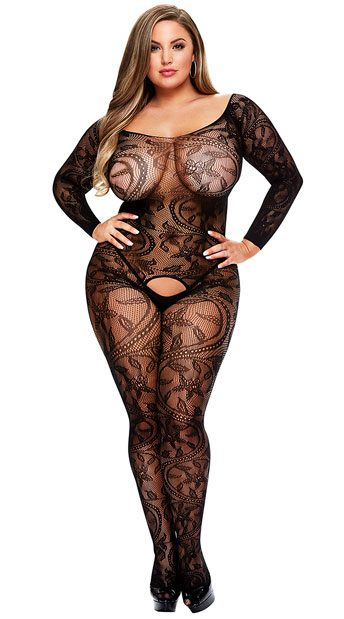 Plus size swirling floral lace bodystocking | See Yandy.com
✔ model wearing One Size | Queen Size
✔ bodystocking in sheer fishnet
✔ scoop neckline and back
✔ long sleeves

4. Plus size right meow leopard bodystocking | Queen Size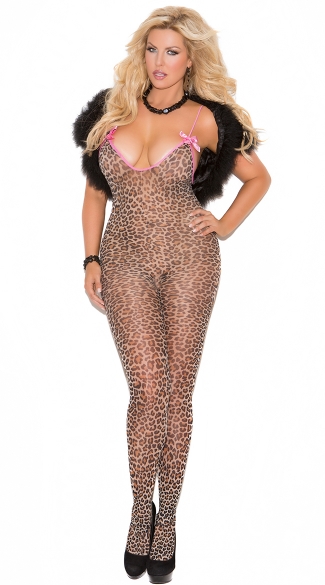 Plus size right meow leopard bodystocking | Queen size | See Yandy.com
✔ model wearing One Size | Queen Size
✔ bodystocking no crotch
✔ leopard printed
✔ mini pink satin bow accents

5. Lovelybobo 2 pack plus size fishnet babydoll
Lovelybobo 2 pack plus size fishnet babydoll | See Amazon.com
✔ fishnet babydoll 2-pack
✔ soft material
✔ versatile one-piece
✔ can be combined with a corset

6. TGD Size Fishnet Stockings Tights Suspender Pantyhose | 8 – 22
TGD Size Fishnet Stockings Tights Suspender Pantyhose | See Amazon.com
✔ soft-touch material
✔ made for curvy girls
✔ see many more patterns on Amazon here

7. Lingerlove plus size lace babydoll see-through bodysuit | up to 4X-Large
Lingerlove plus size lace babydoll see-through bodysuit | See Amazon.com
✔ very stretchy and soft see-through bodysuit
✔ for indoor or going to a club
✔ combines well with other sexy wear
✔ open crotch

8. Lovehoney plus size red lace and fishnet garter bodystocking | Queen Size
Lovehoney plus size red lace and fishnet garter bodystocking | See Lovehoney.com
✔ model is a US size and 5'6″ tall with a 36F bust
✔ she is wearing Queen Size
✔ inbuilt stockings
✔ with 4 stretchy garter straps

Other articles you might like
4 Crotchless Styles for Plus Size
Plus size crotchless teddies
8 plus size crotchless panty
Crotchless thongs plus size
Shelf bras for d, dd and ddd
Plunge bras for large breasts
Sticky D+ bras
10 Plus size lace bralettes
Boob tape for large breasts
Shapewear bodysuits
All you Sexy Bra Guide D+