These 8 crotchless panties are designed for plus sizes. And yes, this minimalistic piece of underwear may be the sexiest you'll ever find. See 8 crotchless panties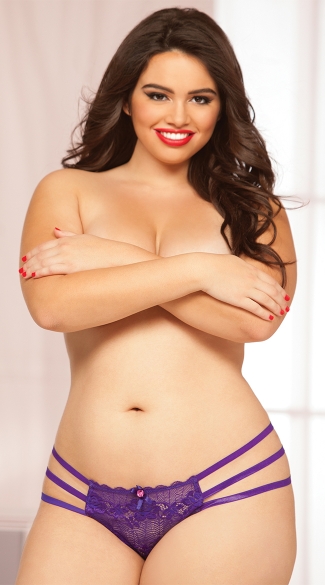 Plus size sexy strappy crotchless panty | See Yandy.com

What to wear with a crotchless panty?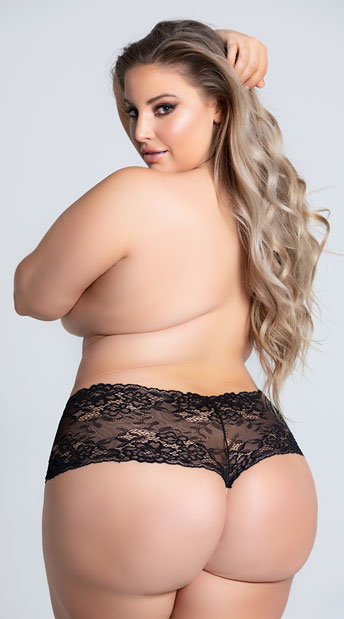 You can dress up your panty with whatever you like.
But no need to add anything if you like. Wear it like it is without a bra. Or if you do choose to wear one you might wanna try an open-cup bra for an even bigger erotic statement. See the collection of open-cup lingerie Yandy
Also, nipple pasties will do a great job. Nipple pasties can be found in every style to match your crotchless panty.

8 crotchless panties in plus sizes

1. Lovehoney wine lace cage-back crotchless panties | sizes 16-24
Lovehoney wine lace cage-back crotchless panties | sizes 4-18 | See Lovehoney.com
✔ a cage-back crotchless panty
✔ strappy design
✔ collection LoveHoney

2. Oh La La Cheri plus size red and black cage-back panties | size 16-24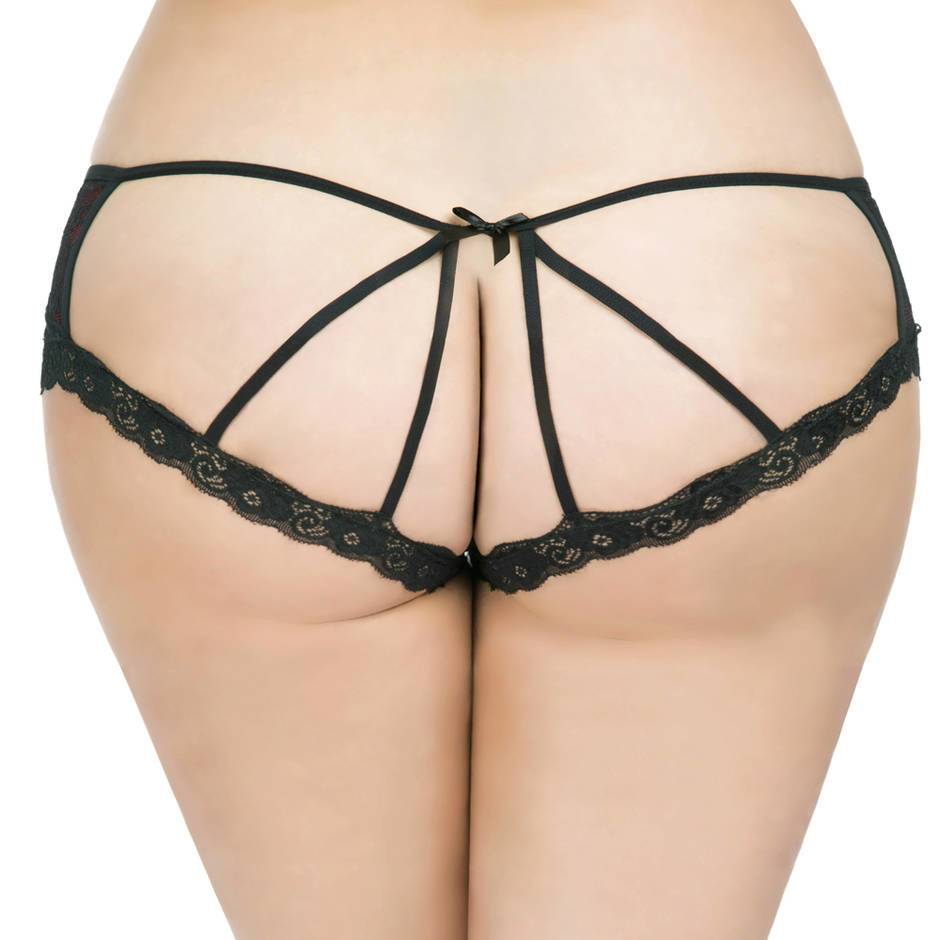 Oh La La Cheri plus size red and black cage-back panties | size 16-24 | See Lovehoney.com
✔ a cage-back crotchless panty
✔ stretchy straps flatter and display the curve of your bottom
✔ collection LoveHoney

3. Lovehoney plus size wet look high-waisted panties | size 14-24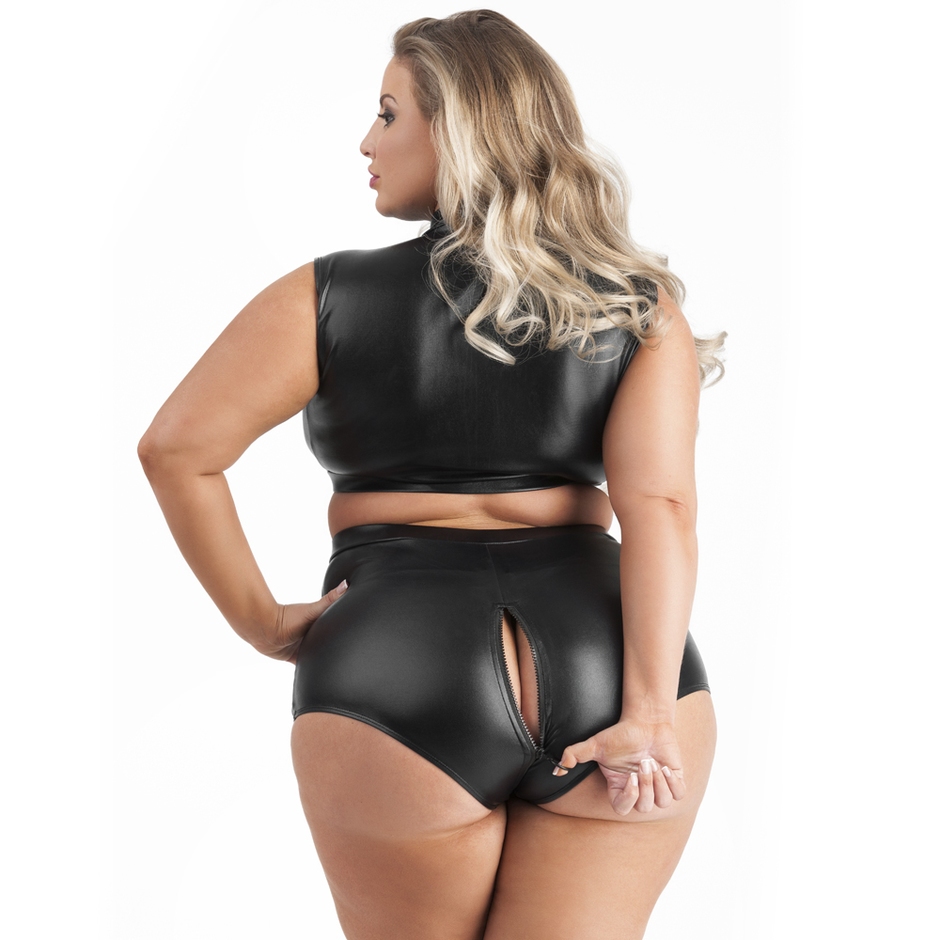 Lovehoney plus size fierce wet look high-waisted panties | size 14-24 | See LoveHoney.com
✔ erotic high-waisted panty
✔ with zippers to reveal as much as you like
✔ both zips meet in the middle

4. Plus size cheeky lace pearl string boyshort | 1X-4X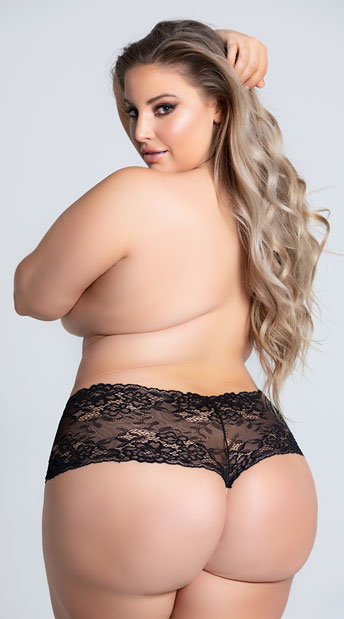 Plus size cheeky lace pearl string boyshorts | 1X-4X | See Yandy.com
✔ crotchless boy short
✔ comes with a pearl string
✔ lace

5. Plus size sexy strappy crotchless panty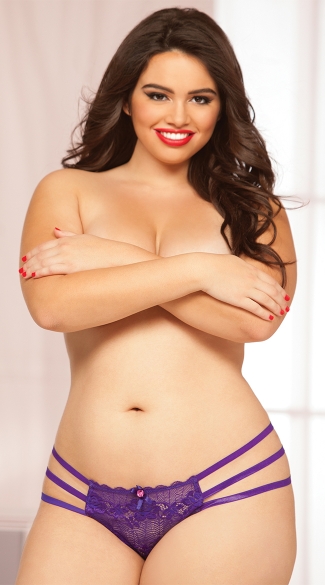 Plus size sexy strappy crotchless panty | See Yandy.com
✔ strappy panty
✔ flattering strappy design
✔ available in several colors

6. Plus size crotchless maid panty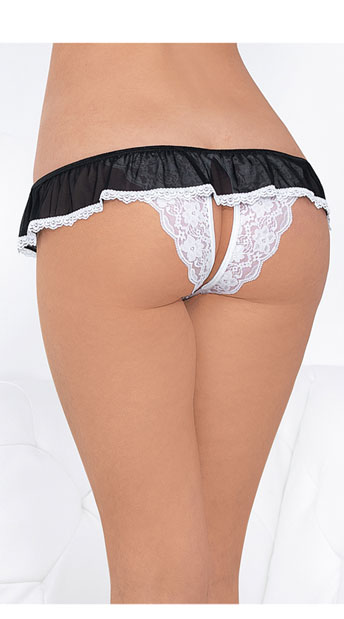 Plus size crotchless maid panty | See Yandy.com
✔ fun and naughty panty in maid style
✔ ruffled mesh and lace overlay
✔ open back crotch panel

7. Sofishie sexy midnight cross back panties
Sofishie sexy midnight cross back panties | See details at Amazon.com
✔ cross back panty
✔ comfortable and soft
✔ available in many colors

8. iEFiEL shiny zipper crotch low rise bikini briefs
iEFiEL shiny zipper crotch low rise bikini briefs | See details at Amazon.com
✔ leather bikini briefs
✔ low-rise
✔ open crotch with zipper

Other articles you might like
4 Crotchless Styles for Plus Size
Plus size crotchless teddies
6 plus size crotchless bodystockings
Crotchless thongs plus size
Shelf bras for d, dd and ddd
Boob tape for large breasts
Plunge bras for D+
All you Bra Guide D+