Shelf bra from collection Yandy
A shelf bra is a sensual bra style, guaranteed to spice up special moments. These shelf bras for plus size are designed for bigger breasts. See my selection 8 shelf bras for d+

Do shelf bras give support?
Shelf bra from collection Yandy

Yes, a shelf bra will give you support
Shelf bras are not the same as open cup bras, which have no cups at all. See open cup Lingerie Yandy
The cups of a shelf bra have a quarter or less height than a standard bra cup.
most support from any bra will come from its band, as so with a shelf bra
the shelf bra has wider set wires and does gently hold and give support
some have a lightly padded underside for lift and support

Will a shelf bra work for bigger busts?
Shelf bra from collection HerRoom
Sure, shelf bras are a little less functional than other bra styles. Still, they do offer support and carry your boobs nicely.
If you are a D, DD, or larger, this bra can be great on you.
Add some extra playfulness to your shelf bra! Combine them with some fancy sexy pasties if you like.

8 Shelf bras cup d, dd and ddd

1. Plus size Sultry Nights open cup shelf bra | 40, 42, 44
Plus size Sultry Nights open cup shelf bra | See details at Yandy.com
✔ open cup shelf bra with underwire cups
✔ lace cups and lace back band
✔ adjustable spaghetti straps
✔ in white, black, and red, see Yandy here

2. Yandy longline shelf bra with peekaboo details
Longline shelf bra | See details at Yandy.com
✔ beautiful longline shelf bra
✔ cups have little peekaboo straps
✔ adjustable spaghetti straps
✔ in red, black, and purple, see Yandy here

3. Plus size Sequin Lace shelf bra | 40 – 44
Plus size Sequin Lace shelf bra | 40 – 44 | See details at Yandy.com
✔ lace bra with underwire shelf cups
✔ satin bow accent
✔ adjustable spaghetti straps

4. Shirley of Hollywood Embroidered Shelf Bra | A – DDD cups
Shirley of Hollywood Plus Size Scalloped Embroidered Shelf Bra | See details at Herroom.com
✔ underwire shelf bra
✔ lightly padded underside for lift and support
✔ scalloped lace panel on cup exterior
✔ sides and back are satiny stretch microfiber
✔ 44 fits most B-DDD cups
✔ in pink, red, black, and white, see colors here

5. Shirley of Hollywood Plus Size Embroidered Shelf Bra | 40 – 44
Shirley of Hollywood Plus Size Sequin Embroidered Shelf Bra | See details at Herroom.com
✔ underwire cupless bra
✔ embroidered mesh
✔ lightly padded side support slings help support the lower bust
✔ sides are soft, fine mesh with sewn-on elastic at the top and bottom
✔ in black and white, see colors here

6. YiZYiF PVC Leather 1/4 Cups Push Up Shelf Bra | S- XL
YiZYiF Women's PVC Leather Balconette 1/4 Cups Underwired Push Up Shelf Bra Top | See details at Amazon.com
✔ underwired push-up shelf bra
✔ unlined
✔ shiny patent leather
✔ flower lace trimming on the front chest

7. Wingslove 1/2 Cup Lace Bra Demi Shelf Bra | A – DD
Wingslove 1/2 Cup Lace Bra Demi Shelf Bra | A – DD | See details at Amazon.com
✔ lightweight and breathable fabric
✔ unlined
✔ 1/2 cups made of sheer lace
✔ sexy see-through design
✔ see all colors on Amazon here

8. Chopper Lace Plus Size Shelf Bra | 40-44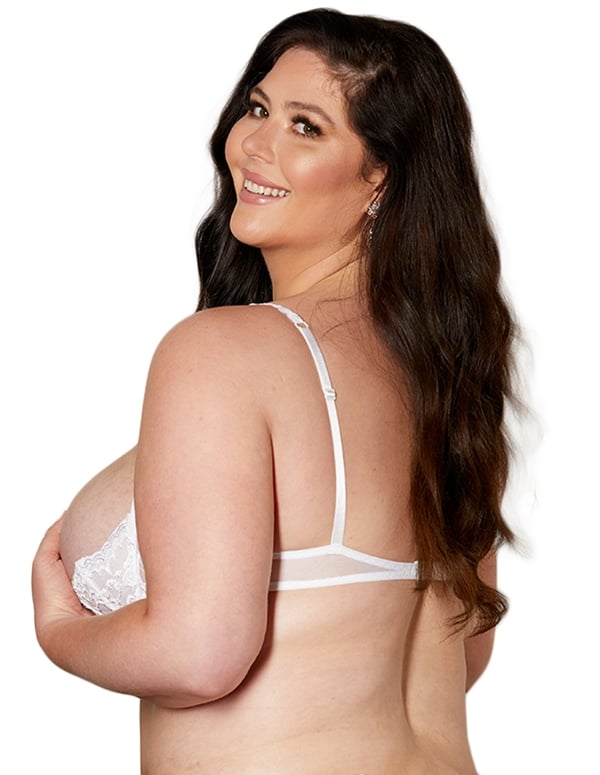 Chopper Lace Plus Size Shelf Bra | See collection Loverslane.com
✔ strategic boning for uplifting cleavage
✔ colors, red, black and white
✔ adjustable shoulder straps

Other articles you might like
Anti-wrinkle & sleeping bras
All You Sexy Plus Bra Guide
Plus size plunge bras
No Side Effect Bras
Sticky bra for large busts
Corset bras for fuller ladies
Crotchless underwear 5 provocative styles
Plus size teddies | 4 top styles
10 Bullet bra for retro looks